5 Steps of Planning your New Kitchen!
Book a tour
Do Not Miss These 5 Steps of Planning your New Kitchen!

Every homeowner dreams of a kitchen that is a fuss-free space for daily activities like cooking and eating. Modular kitchens are all the rage due to their sleek look and brilliant functionality. Whether it is a brand new home or a small renovation project,all homemakers want to go the modular way to the kitchenette. However, planning a state-of-the-art modular kitchen can be challenging. In this article, we spell a step-by-step guide to planning a new kitchen the modular way.
1. Workout Your Kitchen Layout
Your choice of kitchen layout is the foundation of your kitchen design project. It is the phase in which you choose the placement of kitchen countertop, major electrical and cooking appliances and storage space to maximize space utilization. Broadly speaking, there are five fundamental layouts of a modular kitchen like straight, L-shaped, U-shaped, parallel shaped and rectangular shaped. A kitchen designer can help you choose a layout depending on the kitchen and walkways size, incorporating elements like a kitchen island, breakfast countertop etc.
2. Opt for the Best Suitable Modules
Modules present a choice between shelves, drawers and pull-outs, and homeowners must assess them in terms of their pros and cons before picking out what's best for them. There are special modules for space utilization of corners which can be picked depending on your budget. Create the right balance between shelves/pull-outs and set the kitchen ergonomics right by choosing the best
suitable modules.
3. Choose Your Material and Hardware
When it comes to choosing your material, quality and durability matters, check with your kitchen vendor that the material you choose comes with a significant warranty and is tested against threats like water, termites and stains. You can also choose the finish of your kitchen materials which come in various options like polymers, laminates, veneers, PU paint and glass etc. The choice of hardware like channels, hinges, lift systems, shockers, lights etc. plays an important role when it comes to overall durability and functionality of the kitchen.

4. Get Your Countertop
After locking in on layout, modules and finishes for the kitchen space, the choice of countertop matters the most. You can choose from options like Granite, solid surface and stones. Choose the material that has seamless joints and is largely stain-resistant.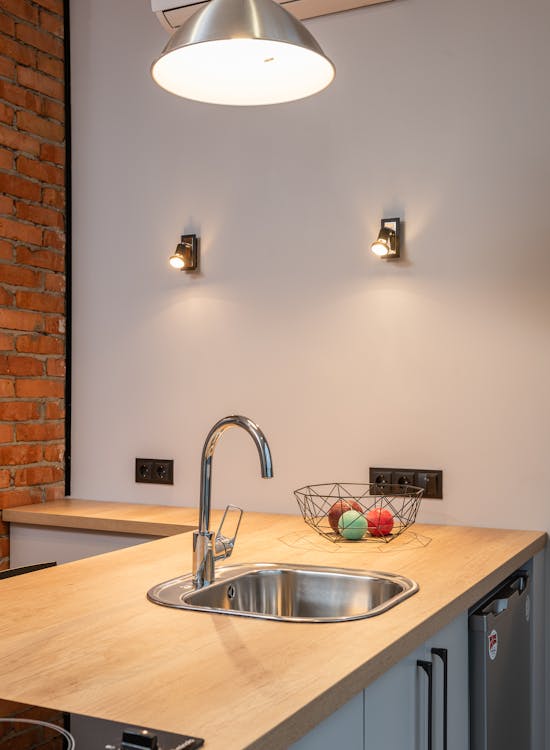 5. Think of Appliances, Sink and Faucets
Kitchen appliances like hob, chimney, microwave define a kitchen for its users.Even kitchen sink choice means deciding between single and double bowl kitchens,and between the kind that comes with drainboards and faucets and without them.
At DONA, we are a team of kitchen design experts who take you through the journey of kitchen planning holding your hand throughout. Need a custom quote for your kitchen remodelling project?
Get in touch with us today!