Evergreen Greens in the Kitchen
Book a tour
4 Ways You Can Make Your Modular Kitchen Greener
A hint of natural greenery in the kitchen area breathes freshness into space otherwise warmed with constant cooking. Bringing plants to your kitchen space can elevate oxygen levels. For example, greens like orchids and succulents are known to absorb carbon dioxide and release oxygen. More importantly, plants release moisture into the air; thus, grouping many plants can increase the humidity in a particular space and keep respiratory issues at bay. Greenery detoxifies the air infusing freshness into it.

Here are some hacks for people looking to introduce evergreen greens into their kitchen:
1. Green Garden Backsplash
Get creative and add a stack of greens in your kitchen background to lighten up the design. Interestingly a window backsplash will look like a vertical garden. Choose a mix of different plant textures to make a visual contrast of different greens. The idea works wonders when you are looking to amp up a minimalist kitchenette.
2. Hang Potted Plants

One of the most conventional but preferred ways of bringing greenery into a kitchen is to hang some potted plants. These clever inclusions can enhance a kitchen space bringing in an earthy, natural and old-school rustic feel into the kitchen's ambience. Match up the counter space by adding a few potted plants for a cohesive designer look.
3. Stack Window Sill Plants

To add low maintenance greenery into your kitchen, the windowsill is just the right place. This particular spot allows you to alter your choice of greenery as the season's change. Most of all, there is something fresh to pluck every time you get down to cook a meal. Various herbs and salad greens are the best choices to grow by the window.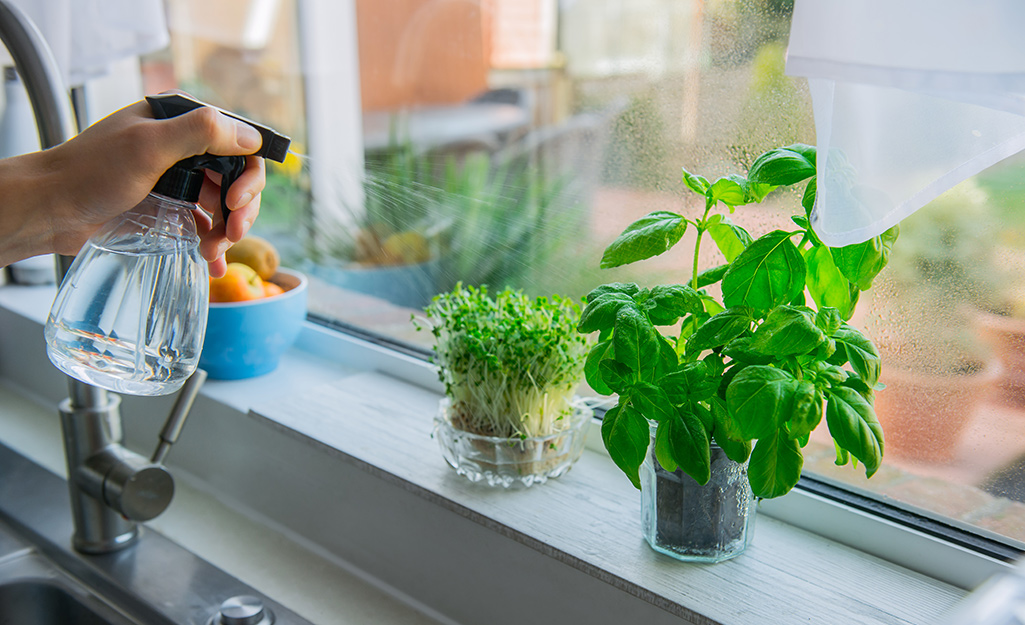 4. Hi-Tech Indoor Herb Garden

Unleash the curious scientist in you and grow organic fresh herbs right inside your kitchen by making space for some growing chambers. LED lightbox, air pump and a fan that enables atmospheric adjustments. There are multiple gardening kits available in the market that make hi-tech indoor gardening a breeze.
While modern design and decor are all about fancy material choices like glass, wood, stone, introducing flora can infuse life in the kitchenette. Talking of greens, the charm ranges beyond old school aesthetics. Plants are instant mood revitalizers and can escalate the cooking and dining experience in the kitchen. Sometimes, extreme weather conditions like hot and humid climate of the terrain makes it difficult to think of using plants in a kitchen space. However, modular kitchen designers in Mumbai and other cities with the same weather conditions have revolutionized the use of greens in the cooking space.

Looking for greener kitchen design? Get in touch with kitchen designers in Mumbai. Get in touch with Dona Modular Systems, one of the best kitchen designers in Mumbai.