How to Choose a Perfect Wardrobe Layout for a Bedroom
Book a tour
A wardrobe is certainly one of the most essential pieces of furniture in a bedroom. Beside the bed, it plays both an aesthetic and functional role. You will need to have a well-thought-out style and structure of your bedroom wardrobe before you choose one. The wardrobe's overall look depends on several factors: how it looks, what is it made of, where it is placed, etc.
A few points are mentioned below that will help you to choose the perfect wardrobe for your bedroom :
1. Type of the wardrobe
There are two options when it comes to wardrobe designs for bedrooms: you can either buy a free-standing wardrobe or a built-in one. A free-standing article that is easily transported from one room to the other and can even be taken with you if you change houses in the future. A custom-designed wardrobe will take time in the making but in return, it provides you an opportunity to choose the color, quality, design, finish and material etc.
2. Size of Wardrobe
It is important to take the measurements of the floor area available and the height of the ceiling before you purchase your wardrobe. It is also essential to consider the measurements of the height of the clothing rod in the closet.For blouses, skirts, and pants, a height of 42.5 inches would be usually suitable while children's clothes could be placed at a height of 30 inches approximately. Make sure that there is enough space between the rest of your bedroom furniture and the wardrobe for ease of movement.
3. Designing the interiors of the wardrobe
You must select the kind of storage you need for your clothing collection if you want to make the most of your wardrobe.Specific sizes of drawers and pull outs are available for western wear, formal wear, Indian dresses, gowns etc. In that case, you'll need enough space above the floor, under the dresser.
4. Co-ordinating the wardrobe with the aesthetics of the room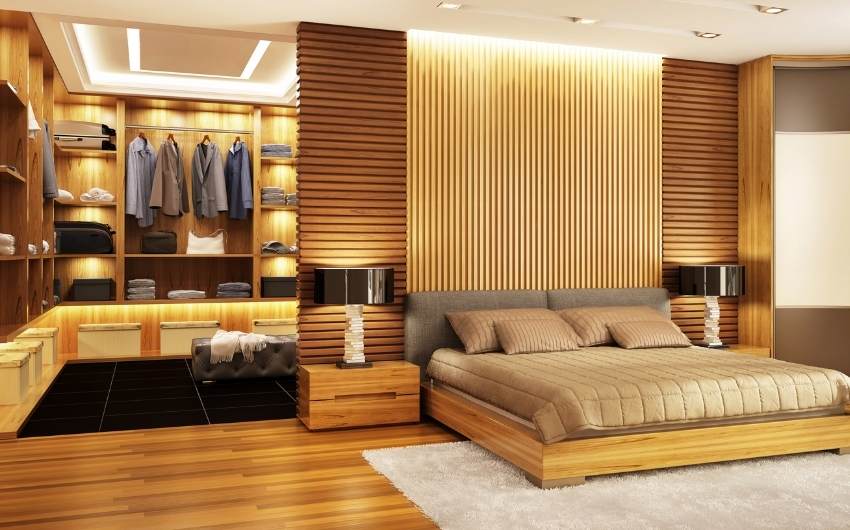 If you want a minimalist wardrobe design, you can opt for a compact one that hides everything. You can also make hidden storage and compartments to keep your personal stuff. If elegance is the theme, then go for a large wardrobe with carvings on the doors and long yet elegant handles.
When it comes to the selection of a storage solution, we should choose a material that goes with the look of the room. For example, for a colorful children's room, we can use acrylic and wooden furniture.
5. Choice of Material and Hardware
When selecting the best material for your wardrobe, you need to carefully evaluate the advantages and disadvantages of all material and hardware on offer. However, make sure you use top notch quality hardware that is durable and will last a long time. As a wardrobe is not a piece of furniture we change often. Hardware not only determines the longevity of a wardrobe but also gives it an aesthetic appeal.
Conclusion
A new wardrobe will not necessarily be a big financial burden on your budget. Doing the proper research before choosing the best option for your wardrobe is a necessity. It will not only help you to keep up with trends but also make you aware of your needs. Seeking professional help through kitchen designers is a good way to ensure that you get your money's worth. Get in touch with wardrobe designers in Mumbai to help you plan your perfect wardrobe.